Our company is your #1 one source for onsite computer repair and PC networking!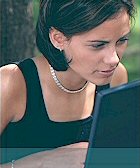 I had experienced the best tech help assited to me by  over my PC. He stayed with me through everything when I had a virus for well over 8 hours. I would recommend his service to anyone for the best help concerning pc issues. Thanks Al !

Laurie

Dear Alan

Thank you for fixing my laptop, it was very convenient for me to contact Alan because he came over to my house and after a short period of time he erased all the viruses in my computer. He is a very intelligent, smart and competent person he knows exactly what he is doing. I appreciate your good job Thank You. Oswaldo Castro.